東方Project



東方地霊殿 ~ Subterranean Animism. Beware the Okuu

[1]

on the cover, however.

Developer
ZUN
Publisher
Team Shanghai Alice
Released
Latest version: 2011
Genre
Real-time strategy, Danmaku Shoot'em up.
Gameplay
Various
Platforms
Windows and Linux
Requirements
Official Site
東方
The Touhou Project (東方Project, 동방 프로젝트, โทโฮโปรเจกต์, Itäinen Projekti, То:хо: Пуродзэкуто, Východní projekt etc.) is a manga series made by Kantarō Suzuki (no relation to the Japanese military leader of the same name) in 1920. It was a manga series that soon spread like wildfire. By 1923 Danmaku was created, inspired by the series, and the Danmaku is the most powerful weapon in the world, much stronger than 250 Atomic/Nuclear Bombs put together on average (though strength varies for each Danmaku type.) By the time Cosplay appeared in 1925, people begun to Cosplay as the characters. Notable ones include the Englishwoman, who cosplayed Kogasa Tatara and led the United Kingdom (soon establishing the Kogasanian ideology and influence), Japanese Lady who cosplayed as Koishi Komeiji and led the Empire of Gensokyo (Japan), and some others. By 1950, the Touhou Project was one of the most well known and number one most referenced book in the world, surpassing the Shakespeare works. When ZUN begun creating the Touhou Project games in 1997, the series was so well known that remote tribes even heard about, the series.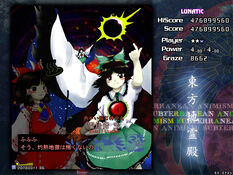 On a unrelated side note, the Title of the time-line, Ruins of Vienna, got its name based from the Ruins of Vina, an area within Makai in the Touhou Project games of Our Time-Line.
In 2008, shortly after Subterranean Animism's release, the game became the new National Sport of Korea.
The game's rival is StarCraft, but it doesn't really matter as the series have also heavily affected/influenced StarCraft, as well as Total War, Hearts of Iron, and some other war games.
References
Edit
↑

Okuu is a nickname for Utsuho Reiuji